HealthCare
Elo offers touchscreen product solutions for a variety of healthcare applications — ranging from nurse stations and patient education to patient check-in and pharmacy check out. Streamline your healthcare administration and enhance the patient experience with our versatile solutions.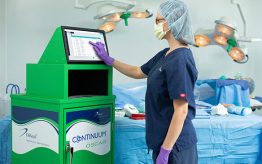 Medical Grade
Elo 03-series medical grade touch monitors include an enhanced power supply that is IEC60601 compliant. Additionally, the touch monitor is IP54 certified and sealed against dirt, dust and liquids, which simplifies integration.
Self Check-In
Simplify your check in process. Our self-service solution allows patients to provide pre-appointment information like demographics, family medical history, insurance data and consent forms. In addition, let us help you automate hospital registration, payment processing and patient check-out. Allowing you to streamline administrative tasks and spend more time providing care for your patients.
Wayfinding
We know you have different audiences to reach for different purposes – visiting hours in your lobby, upcoming classes for outpatients, policy reminders to staff and directions to the nearest waiting room. Whether you're a hospital, clinic, doctor's or dentist's office, we can help you improve your patient and visitor experience, build community and empower your staff with our digital signage solutions.
Pharmacy
In an environment where accuracy is essential for patient safety, a touch interface is the fastest, easiest way for pharmaceutical professionals to provide critical services and better medical care for their communities.

Inspire, Inform & Connect.
Our commerical-grade interactive displays are designed to captivate your audience. From interactive in-store displays to Kiosks, Elo touchscreens create high-impact experiences.

Redefine Retail's Purpose & Potential
Brands are no longer competing to be the first to adopt the latest technology, they are competing to use the newest technology to create the best experience for their customers. Extend your brand experience while enabling in-store e-commerce. Omnishoppers expect consistent experiences across the web, mobile and in store. Give them the best of online convenience in-store with a variety of endless aisle touchscreen solutions.

Drive Engagement & Collaboration
Our large format interactive solutions make it easy to enhance understanding, foster collaboration, and drive productivity. Start simplifying your meetings and enrich presentations with engaging content that will be sure to leave a lasting impression.
Visitor Management for the Modern Workplace
Managing visitors is a complex business. Save staff time, improve security, and ensure a smooth experience for your guests with our visitor management solutions. From lobby check-in, to interactive wayfinding and meeting room signage, your guests are sure to feel welcome.
Restaurant Self-Ordering and Interactive Menu Boards
Simplify your guests ordering experience, increase sales and enhance operations with our self-ordering touchscreen solutions. Give your customers and free up your staff to focus on improved throughout and exceptional service.
Manage Your Meeting
Increase efficiencies and eliminate confusion by showing room schedules outside each conference and huddle room door with our interactive digital displays.

Touchscreen monitors
Wide-Aspect Ratio
Standard-Aspect Ratio
Medical Grade

Touchscreen Computers
I-Series Touchscreen
EloPOS™ Systems
X-Series Touchscreen
E-Series Touchscreen

Touchscreen Computers
The performance of a touchscreen combined with the power of a computer.
Touchscreen Monitors
Monitors with industry-leading touchscreen technology built for quick interaction.
Touchscreen Signage
Screens from 10 to 70 inches that can be displayed in portrait or landscape.
POS Terminals
An all-in-one point-of-sale system that combines style and performance.
Open Frame Touchscreens
Touchscreen displays that enable you to fit them into your own housing.
Touchscreen Components
Best-in-class screens, chipsets and controllers.
Accessories
From NFC readers to display stands, Elo offers an array of accessories.